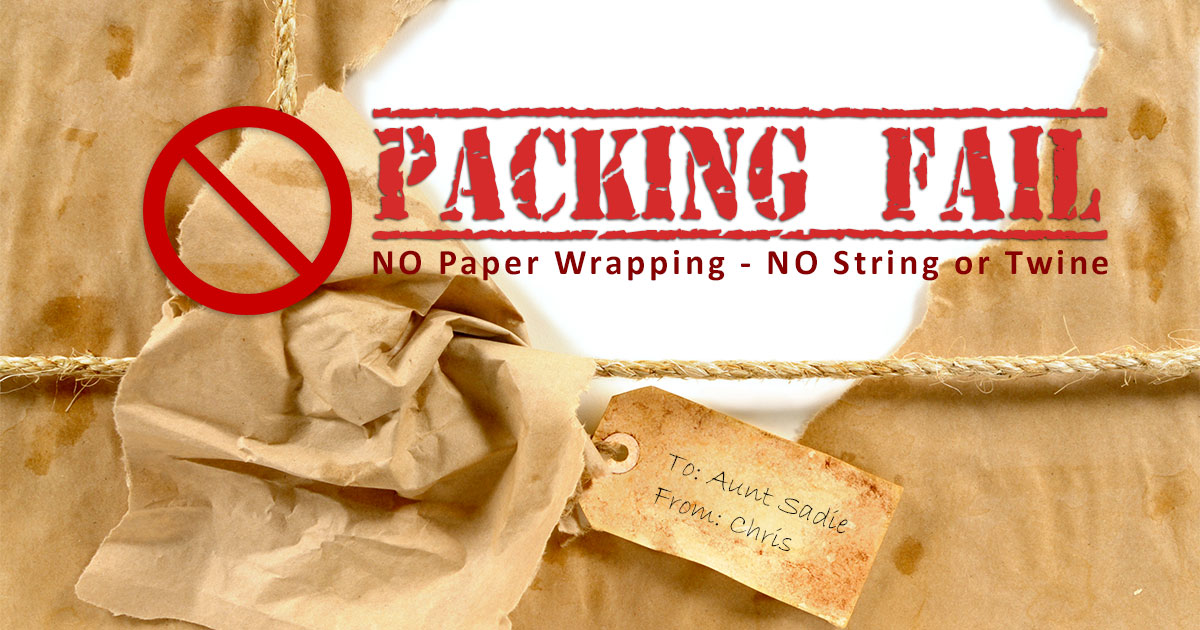 Wrapping a box with any type of paper is asking for trouble. Brown paper packages tied up with string are definitely not the favorite things of the people in the shipping business. Often times the conveyor belts that transfer the packages will snag the paper or get hung up on twine.  Packages with string, ribbons, or twine run the risk of getting caught on the belts which will damage the box and may even cause damage the conveyor belt system.
When you wrap boxes in paper, brown or other colors, the wrapping tends to tear. And when the paper tears, the conveyor belt doesn't work properly and often the shipping label is destroyed in the process.  Can you imagine a pile of ripped packages pulled off the line with no return address and no shipping address? Not good. 
An unadorned box sealed with tape is the best way to ship gifts. Make sure to use a good quality packing tape. Not Scotch tape. Not Duct tape.  (Just to clarify: duct tape is NOT packing tape. It will crack and peel off boxes in the cold weather and will get soft and melt off boxes in the heat. Always use packing tape!)
Guidelines for Good Packaging
You can help to ensure that your package arrives safely and on time with these packaging guidelines and procedures developed from UPS research.
Use a rigid box with flaps intact
Remove any labels, hazardous materials indicators, and other previous shipment markings on the box that are no longer applicable
Wrap all items separately
Use adequate cushioning material
Use strong tape designed for shipping
Do not use string or paper over-wrap
Use a single address label that has clear, complete delivery and return information
Place a duplicate address label inside the package
If you have any packing questions. Please give us a call here at Ship It. Our professional packers are here to answer any questions you may have and are available to pack your items so they all arrive safely and on time.
Shipping Hours – Weekdays 8:30-5:30 and Saturday 10:00-1:00.  We are located at 809 W 8th St., Pella IA – 641-628-4888. 
For more packing tips, visit our FAQ page.